To ensure your project is built efficiently and within budget, we offer order entry forms to reduce errors and save time, but most importantly, all orders are processed through an experienced sheet metal fabricator trained to do the following:
Ask prudent questions
Personally verify your ductwork is built to the exact specifications you lay out
Create blueprint takeoffs which can aid you in project management
Our rectangle duct is offered fully assembled with Pittsburgh seams, sealed or unsealed, in 60" lengths with S & Drive connections or 56″ lengths with TDF connections using our coil line. Two-piece snap lock duct with S & Drive connections, unassembled and stacked on skids is also offered, from our coil line. Our fittings are typically all Pittsburg seam and assembled.
Ask for one of our order forms to speed up ordering and eliminate errors.  Tell us if you order drive to drive or raw to raw.  Always call out material type, if lined or not, and if lined or doubewall , Specify ID of inside duct calling out liner thickness. OD with TDF duct is 1.41 per side or 2.82 bigger then inside (ID) dimenision unless special 1 in inner shell is fabricated.
Our team can also fabricate ductwork directly from the coil line using materials such as the following:
Stainless Steel in gauges ranging from 26 to 22. Jobs requiring thicker gauges are built via tig welding.
Galvanneal is also available in all the same gauge ranges as galvanized, which is 26 to 18.
Aluminum in 040 and 050.
Our commercial duct ordering system offers the following:
Blueprint take-offs and project management. All orders are processed through an experienced sheet metal fabricator who is trained to ask questions and ensure your ductwork is built to the job's specifications.
Detailed order entry forms, which make for accurate, timely, and economical ductwork.
National delivery to the jobsite. Whether the job is down the street or in another state, we can send ductwork directly where it's needed.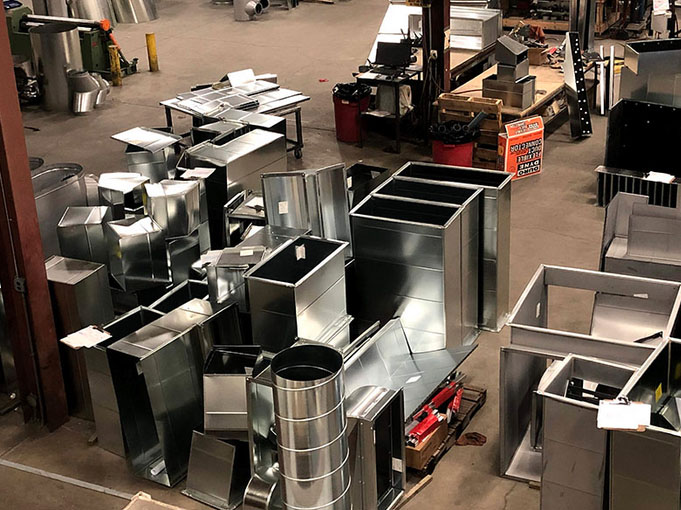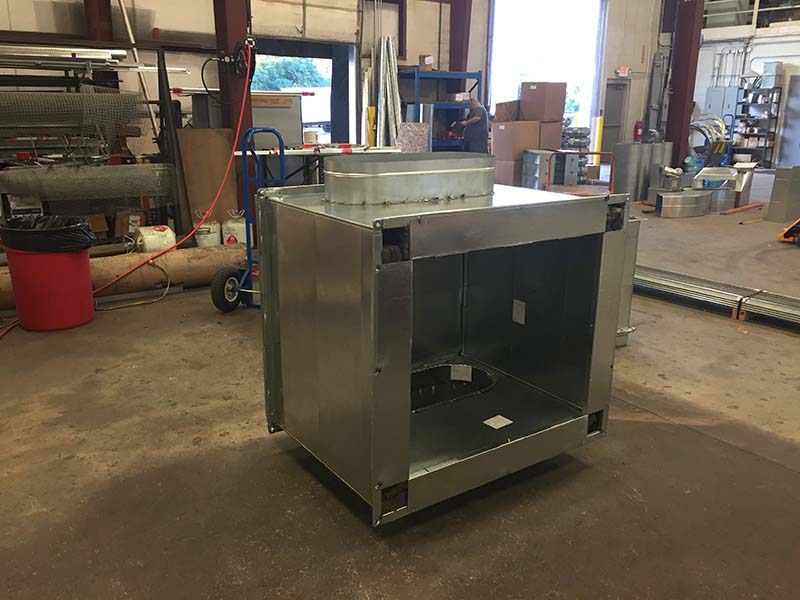 Double Wall Duct Fittings
Double wall rectangle duct and fittings are built with S & Drive or TDF joint connections and are available with 0.5″, 1", 1.5", 2″, 3″ or 4″ thick insulation. Standard insulation is a 1″ unfaced liner with 1lb. density per cubic foot with a thermal conductivity of .26BTU•in/(hr•ft2•°F). Double wall can be made with a perforated inner liner for acoustical an thermal benefits or a sold inner liner, primarily for thermal benefits.  At an additional cost, a faced insulation product can be used with perforated metal in lieu of the standard unfaced insulation. Other liner types are available at your request.
Alway specify ID dimensions of duct being ordered and liner thickness.  To be safe discuss ID and OD sizes to confirm your requirements.  TDF fabricated double wall duct Outside Dimenisions (OD) are 2.82 inches bigger, not just 2 inches, unless special 1 inch inner shell is fabricated. ( Which can be done to go thru walls for example, if space is a issue. )
Our team builds curb adapters for roof top replacements.  We are one of the rare producers of this product because the intricacies of curb adapters require an experienced sheet metal fabricator to get it right. Next time you need a curb adapter, give us a call.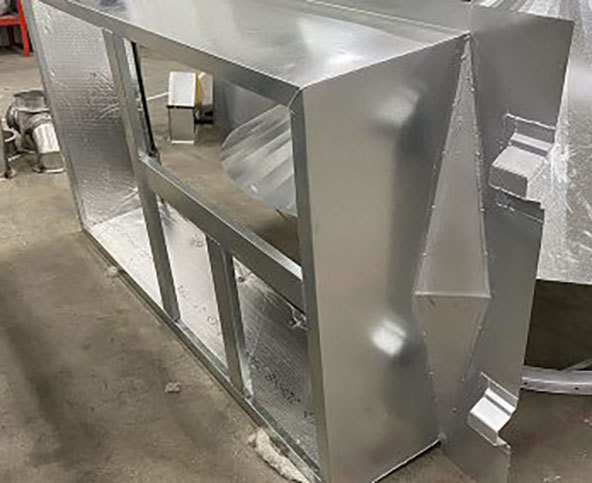 Contact us today to start your next project