We manufacture spiral pipe from 3″ to 80″ plus diameters in either single wall or double wall, up to 20 ft long. Our pipe is available in gauges 26 to 16, in galvanized, galvanneal (paint grip), PCD, aluminum, stainless steel, black iron, and various perforated materials. We have over 2,000ft of spiral pipe in stock, ready to ship to your job site in 3″ thru 24″ in 10ft lengths.
Try USA for your spiral pipe needs and you will realize not all spiral is the same. Give us a call on your next project, 616-475-5905 in Grand Rapids or 734-261-0410 in Detroit, and ask for customer service. We also ship nationally.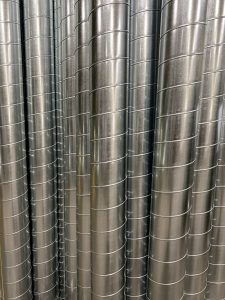 At USA, custom metal fabrication is how we started and it's a niche we proudly fill today. We utilize efficient, skilled fabricators and specialized equipment to ensure fast turnaround of any custom fittings you might need. We also build a line of standard HVAC fittings, designed to fit spiral pipe that are produced in mass quantities and stocked for your immediate pick-up.
Our team manufactures products for many industries, standard low, medium or high-pressure HVAC systems, welded industrial exhaust systems, and medical fume exhaust systems.  Our available stock materials include galvanized, galvanneal, stainless steel, aluminum or PCD materials.
Many types of fitting seams are available, such as spot welded, standing seam, riveted, stitch welded, solid welded, snap lock, maplewood and more.  Joint connections are available in standard slip, AccuFlanges, angle rings, Spiralmate and others.  See our catalog for a complete list.
USA manufactures round fittings from 3″ to 80″ plus inches in diameter either single wall or double wall, out of galvanized steel using 26 gauge through 10 gauge. Other stock material include Galvanneal (paint grip), PCD, aluminum, stainless steel, black iron, and perforated materials in stock.   Our spiral machine can run 16 ga gal.
If you need round fittings, let us know the function it is serving and we likely have what you need.  Click on the PDF catalog to see a drawings of our common fittings.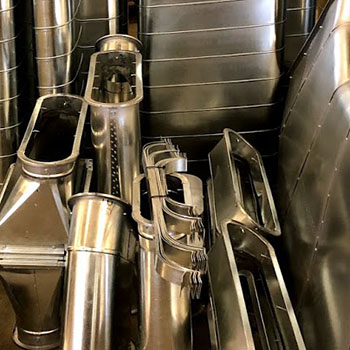 The single and double wall oval duct and fittings we produce run from 5″ to 24″ minor axis in 6ft to 10ft maximum lengths depending on oval size.  Pipe in those sizes is made with a spiral seam, whereas minor axis sizes above 24″ is made with a longitudinal seam in 5ft lengths. USA's proprietary oval pipe and fitting manufacturing process ensures the oval pipe and fittings fit together properly.
AccuFlange joint connections are recommended to join oval pipe and fittings to reduce field installation time, particularly with double wall oval.
To meet SMACNA deflection requirements on certain oval sizes AccuFlanges or oval angle rings are required for joint connections, along with intermediate reinforcements to meet SMACNA deflection requirements.
Our team build a line of non-welded oval fittings that are cost competitive, robust, and visually appealing for exposed applications.
Drawings of common oval fittings as well as rectangle to round and round to oval conversion charts are available, for your convenience, in our Spiral Catalog.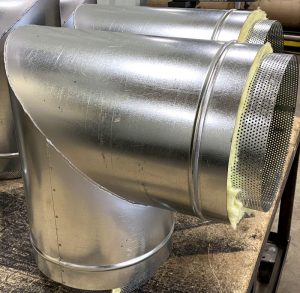 Double wall duct and fittings are available with 1″, 2″, 3″ or 4″ thick insulation. Standard insulation density is 1lb per cubic ft with a thermal conductivity of .26 BTU•in/(hr•ft 2 •°F). Double wall can be made with a perforated inner liner for acoustical and thermal benefits or a sold inner liner for primarily thermal benefits. Standard insulation used for double wall round or oval is an unfaced 1lb density. For additional cost, faced or mylar or an equivalent wrap, can be applied between the perforated metal and the insulation to prevent insulation fibers from entering the air stream.
AccuFlanges or equivalent are recommended for double wall joint connections to reduce field installation time.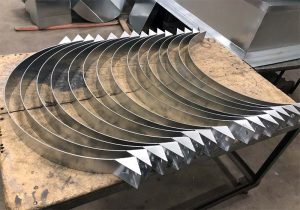 > Round roof flashings, pitched rain caps, rain collars, no-loss stacks, butterfly or pop-up dampers
> Beauty rings, roof mounted pipe stands, curb caps
> Draw bands, angle rings, and other connection devices
> Custom sized spiral and oval hangers
> Access doors for round applications
> Special locking handles and canvas connectors
Contact us today to start your next project